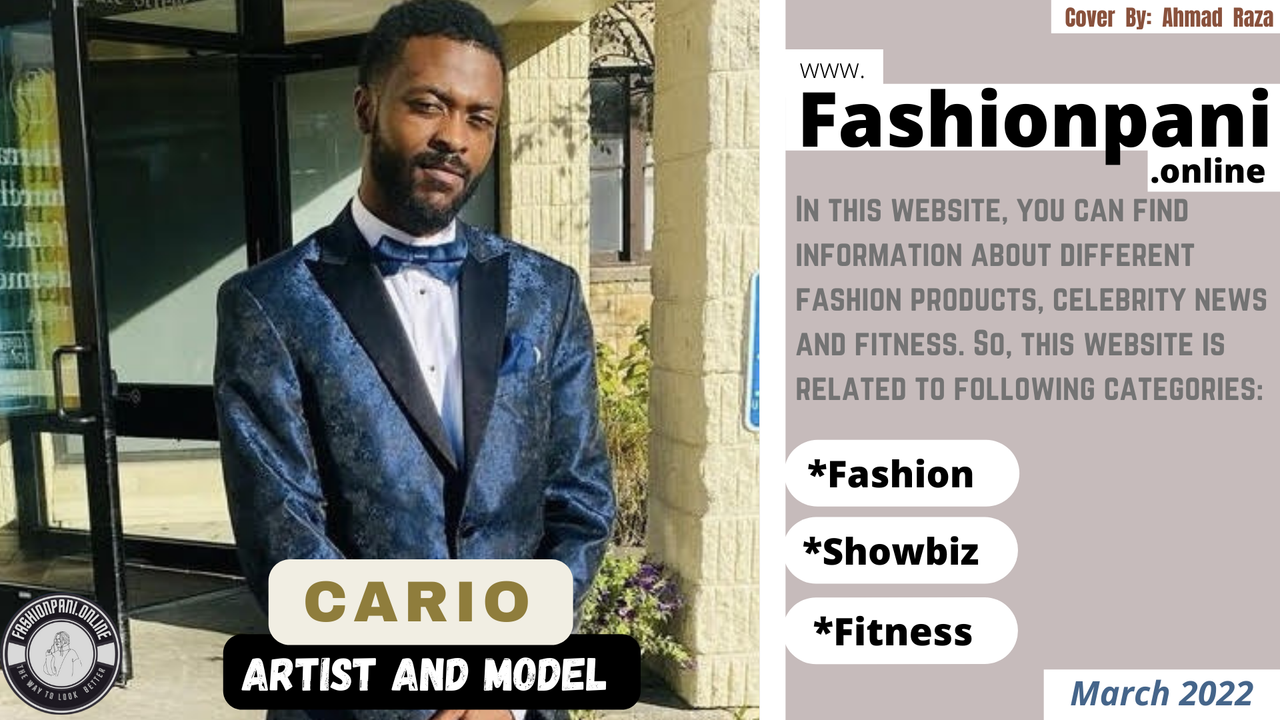 Cario is an upcoming artist and model from Saint Paul, Minnesota and currently resides in the Dallas, Texas area. Cario is on his way to accomplishing what he deserves. His number one goal in life is to be the best version of himself possible, whether that's via modeling or music.
Cario is confident in his future and is now staying active in order to support and empower individuals at all levels of the music business. "Right now I'm promoting my project I just dropped on all platforms Life Before Fame. If you ain't checked it out you got to go slap that. I'm performing tonight in Dallas. I'm headlining a show tonight in Dallas at the Chocolate Lounge for the radio station out here shout out 97.9 The Beat radio station and Spaceboi. And I think I'm going to do a show April 30th for K104. Somebody had reached out from their camp, but I don't know. I miss Minnesota I might go back home for a minute and come back down for the show or something I don't know yet." He maintains that he is not looking in any direction other than ahead and that he is not looking back.
Where

are

you

from?
I'm from Saint Paul, Minnesota. The Rondo/Midway/Selby/Frogtown area. The trenches.
Give

Three

qualities that

describe

you:
Intuitive, Hustler, Charming.
What

piece of

advice you want

others

to

take back from

the work

you

display?
You can do whatever you want. If you want to work a job or run the streets. Do what you want to do don't let nobody stop you from your vision. Cuz what might not be for them might be for you. And everybody has to go through some type of struggle to get where they want to go. Just pick your struggles wisely you feel me.
As a artist, what are some obstacles have you had to overcome to get where you are at?
I still go through obstacles. I want to record right now, and I can't.
What

do you have

coming up

right

now that

you want

others

to

know about?
Just go download that Life Before Fame right now. Play it in the club, play it in the car, book me for a show.
Despite the notion that failure is typical while moving away from home, Cario is a successful model who isn't one to give up easily. His long-term ambition is to keep pushing forward and to use his initiative to make a difference in the world. "I just let God guide me. And try to be as logical as I can I guess I don't know. My mom raised me to be a machine. Like I used to see how hard she worked and me and my sister never had to really want for nothing. My dad was a hustler so it's in me not on me you feel me. And then my mom just died like 3-4 days before my birthday last year. That shit woke me up to go harder and stand on business. That shit was traumatizing I found her while I had COVID and all types of crazy shit. That's why y'all got go check my tape out. Real struggles, real pain, just real."
As a result of the outbreak, some artists had considerable obstacles in 2021; various rules implemented at the local and federal levels restricted a large number of events with large crowds, including as concerts and festivals, from taking place. As a result, the number of possibilities for artists to display their abilities was severely limited. Cario current emphasis is on continuing to pursue his musical profession in order to solidify his already strong foundation even further than it is. "All my loved ones. I'm loved where I'm from. I wouldn't say like I'm like that nigga, but I got a lot of love in St. Paul. I ain't dropped a project since 2018. And since then a lot of shit happened. Homies dead or locked up, family dying and living. All fucked up. Some people doing well for themselves but ain't nobody living the lives they want to live for real. Just settling and it be even worse cus the world be writing Minnesota off like it's not crackin' cuz it get cold as fuck in the winter. But that only be the winter. I'm trying to open the door like Chief Keef for the young people in my city and Dallas cuz I like the vibe and weather here"
Furthermore, the #Focuseddd brand continues to promote the stories of individuals who are driven and ascending through the ranks of their various professions, such as Cario.
Tags linked with those listed include:
Twitter:
Instagram: