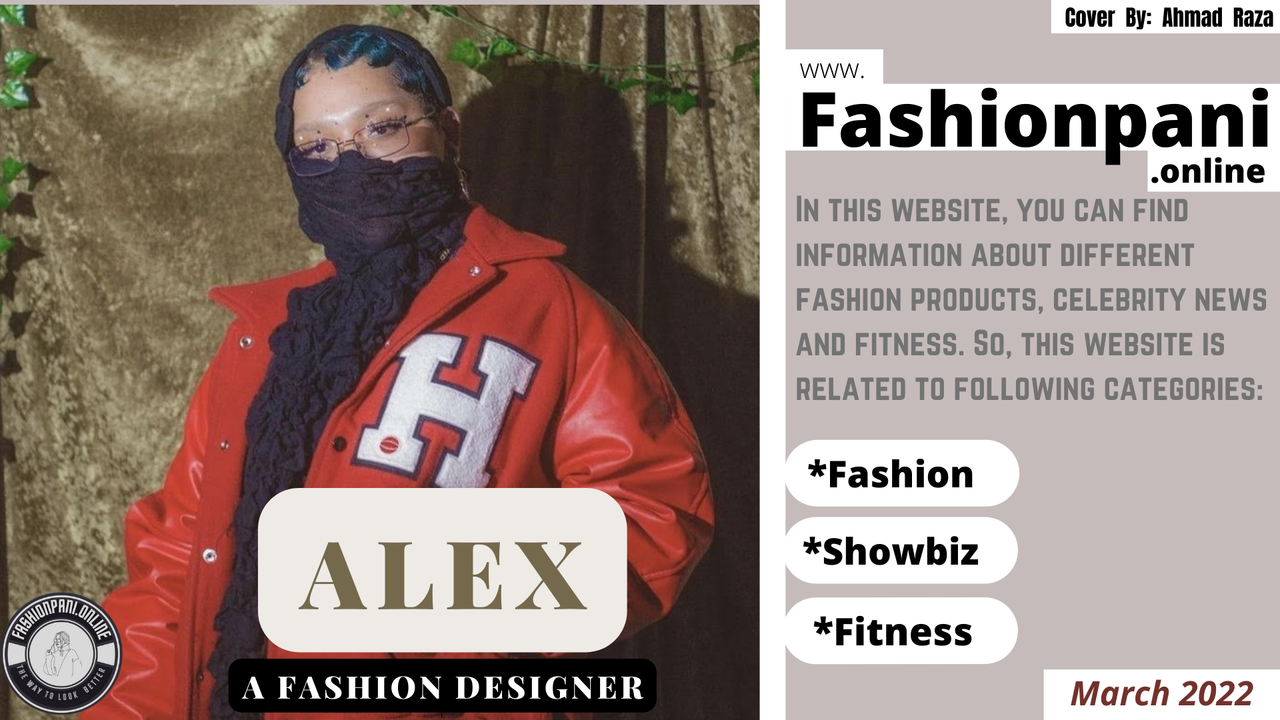 Alex is an entrepreneur and fashion designer from Dallas, Texas. She stays devoted and works hard on her craft with photography, clothing, and music. To become more serious and dedicated to her work and proving others wrong remains a goal for Alex and she is on the right track to doing so". I love to express myself with the clothing I wear, makeup, and the things I create. I love my colors but I also love a black fit, but my heart, mind, soul, and the way I see my world is colorful and vibrant.
The art I create is for myself and for others to help them through their self-love journey. UGLX4Y has really helped me a lot because I've flipped such a negative word into something positive. It helped me get out of the habit of caring so much about what others think of me and how I see myself in the mirror. Now when someone says something or even when I get trapped into negative thinking about myself I flip it into something that helps me out, not bring me down. We operate through love". Alex is a well-rounded artist who refuses to give up even when things don't go as planned. She wants to keep moving forward and use his music to do good things.
3 qualities to describe Alex:
1. Expressive
2. Open-minded
3. Hot hearted
What is it creativity that you are working on?
I'm currently working on a photoshoot with @darianwiththatcanon (Instagram) to really display what UGLX4Y means to me. I have a vision for it and right now the things I'm creating for the shoot are coming out nicely. It really excites me. He's a very talented photographer, we will definitely make the vision come to life. Also coming out with a few designs that have a subliminal message to them. Giving people a way to interpret them for themselves, also putting little affirmations and phrases to motivate people to keep on loving.
What is inspiring you right now consistently to work on your endeavors?
I'm currently working as a dishwasher, I think to myself I'm not meant to be in the back of a restaurant, I'm meant to do something greater. I have a voice and natural talent that not everyone has, not just in the things I create but also in the words I speak. Realizing I only got one shot to do just that. Knowing I'm better than my past, I'm doing great in the present, and I'm fulfilling a better future for myself and the people that come across my art.
How have you overcome struggles to be where you are now?
Believing in me and trusting myself. Getting out of a very negative mindset, overthinking so much, and not enough doing. You'll never know the outcome till you actually do it, I tell myself now. I was my worst enemy at times and adding what others thought of me and just being too scared to do anything. Realizing I'm strong and I can do anything I put my mind to like my ma always told me. Everything I want/need is already mine and I have to put in the action to get those things.
What piece of advice do you want others to take back from the work you display?
To love yourself obviously, whatever that means to you. Physically, mentally, emotionally, and spiritually. Do you and not worry about what others think, whether that be family, friends, associates, coworkers, and the little negative voice in your head, literally anyone because it is your life and what outsiders say is just a reflection of them, not you. The choice is yours to either believe them or use them to motivate you. There's going to be people that are going to support you but you're gonna have to be your first supporter. Follow your heart, your dreams, follow U. Loving you never stops. It's (x4) forever.
What do you have coming up right now you want others to know about?
At the moment I'm just planning and steadily executing the plan on how I want things to be.
Practicing on a couple designs and seeing what's the best technique for each piece. In the near future, I plan on doing a couple vendor events, I'll definitely have to keep you updated on that.
Who were the most influential people in your life?
My dad, ma, Shermaine, and Alexia. They have always believed in me and have been there through any decision I've made, dumb or smart. They believed in me when at times I didn't. I've learned and unlearned a lot from my parents. They are continuing to grow to be better for themselves and for us as well. My sisters, there's nothing that can break our bond, we BIG 3, the Power Puff Girls, Ed, Edd, and Eddy type shit. THEY CAN'T PLAY WITH US. Big things are coming. We want to break the generational curse. We have dreams and really strive to go by them and take the steps needed to achieve them. Not letting anyone get in our way.
Alex has a goal to make people want to see more of her work, which she has done already in being in the fashion designing world. By putting in the hours of work, commitment, and inspiration both in front of and behind the scenes in the year 2022, she makes a difference in the fashion business. Alex explains that every piece that she designs is to be of inspiration to others. She works relentlessly to display the vision because she believes that vision without execution is hallucination. Taking risks is what sets a person apart from the pack. Through her work she wants her clients to understand that the sky is not the limit, it is only a view.
Even though Alex is devoted to perfecting the art of her fashion, her hardships have made her want to do even better in her business as well. "Getting out of my comfort zone and just putting my work out there. I also stopped comparing my progress to others and thinking I couldn't get that far but I'm definitely seeing the fruits of my labor, it's a long and exciting road ahead. Realizing at some point I was going to fail or my plan or expectations didn't get met, I learned not to be hard on myself and just fix my mistakes and keep it moving.
It's a very simple message but it goes deeper. It's a brand, yes but it's something I live by and continue to do every day. For now, I'm not selling much, I want to put it out to the world. Then later I'll start putting things out. Another thing is being consistent with it. I'd get caught up in distractions, people, and things that weren't really helping me grow into the person I am now and the person I'm becoming."
Despite the passage of time, #Focuseddd continues to emphasize the abilities and motivations of individuals who have a strong purpose for what they do, such as Alex.
Tags of people who were talked about:
Instagram: