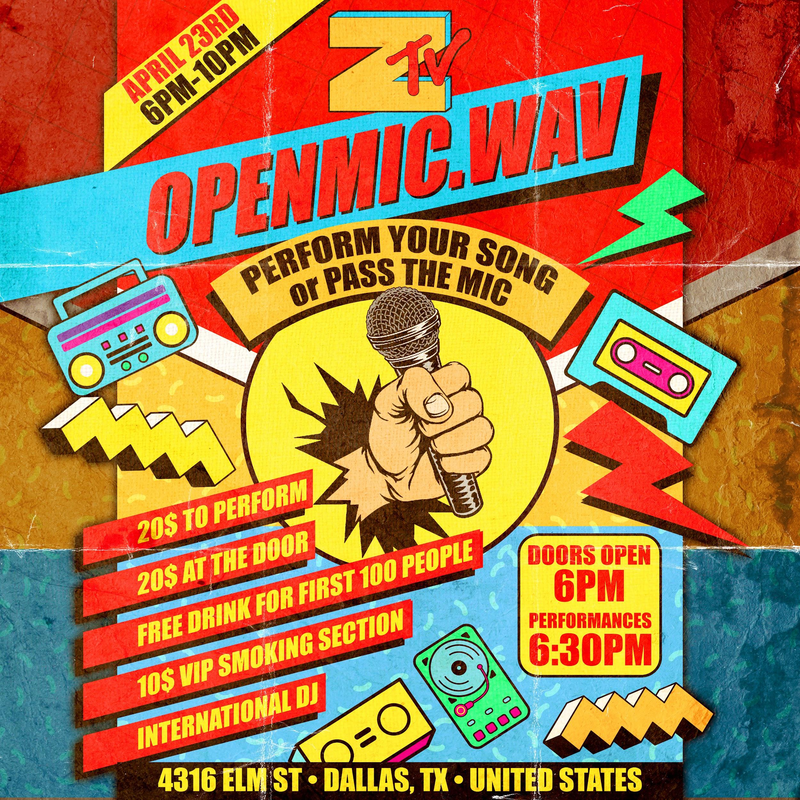 Wavybandz, also known as 'Wavy', is a creative artist and entrepreneur out of Dallas, Texas. From owning a studio, engineering, and producing quality music, shooting music videos, taking pictures, promoting shows, and managing artists, Wavy stays devoted and works hard on his crafts. He has a passion for creating content and opportunities for a diverse range of artists when it comes to their work. Coming up, the entrepreneur is promoting a show for local Dallas artists on April 23rd, 2022. A showcase highlighting some of the top talents in the city. Becoming more serious, being dedicated to his work, and proving others wrong remains a goal for the Wavy and he is on the right track to doing so. "Creating isn't a competition. It's just about creating something that moves people. It could move yourself or someone else. All I'm doing is creating and I hope to inspire other people to do that because it's awesome and you don't have to be famous or rich to create, you can just create stuff because it's dope. I just want to inspire people to step into that creative space and see what happens." Wavybandz is only moving forward and is passionate for the community.
Wavy explains that he is currently in the works for opening a bigger studio. Dedicated, passionate, and creative, he aims to starting an event business for the up-and-coming artists and creating an online video network for up-and-coming artists called BANDZTV. It will be similar to what MTV did at the beginning of their creation however Wavy's content will mainly be on social media and YouTube. And more specifically, Saturday, April 23rd, Wavy will host the showcase.
Where are you from?
I'm from Texas. I was a military brat so I've been all over the place, but home is Texas. I love it here.
What is inspiring you right now consistently to work on your endeavors?
Family and God. I just love creating. I like to see what can happen, creating things is just so cool. Whether it's events, a song, a beat, a video. I just love creating it. Helping others.
How have you overcome struggles to be where you are at now?
I have this story where I drove around San Antonio, Austin and San Marcos for years with my portable studio in my trunk and slept in my car and recorded anyone and everyone I could find just to get experience, a little money, etc. I worked some wild hours, drove some crazy places, and recorded some really talented artists. Sometimes in the worst places I've ever been. I did this for years before I found Dallas.
As a business owner, what are some obstacles have you had to overcome to get where you are at?
Patience is key. Creating a successful business takes years of hard work and dedication. You really have to want it more than everyone else. There are new obstacles every day. There's so many.
What do you have coming up right now that you want others to know about?
I have an open mic event April 23rd called OPENMIC.WAV. I want to help fuel the upcoming talent in DFW the best way I know how. By creating awesome events for artists to perform at. Eventually I hope to make it into an event series!
Even though Wavy is devoted to perfecting the art of his work to the highest level, his hardships have made him want to do even better in his business. "My current obstacle is expansion. I would love to create a bigger creative space for myself and artists. I really want to do that. I've worked so hard and I'm ready to take the studio to the next level. Somewhere to create, perform and relax. It's my goal and obstacle at the moment." Wavy remains focused regardless. "The struggle is real. Everyday being an entrepreneur comes with a new set of struggles that seem like the biggest problems because you're the one having to deal with it, even if it's not a big deal, it's your big deal. That's sort of what keeps me going in a way. Overcoming my own mind."
Wavy has a goal to make people connect and collaborate and he has already been doing it as long as he can remember. Putting in the hours of work, commitment, and inspiration both in front of and behind the scenes in the year 2022 and many years before, he has been making a difference in the music business.
The multimedia public relations brand, #Focuseddd, continues to emphasize the abilities and motivations of individuals who have a strong purpose for what they do, such Wavybandz, also known as 'Wavy'.
Tags of people who were talked about:
Instagram: