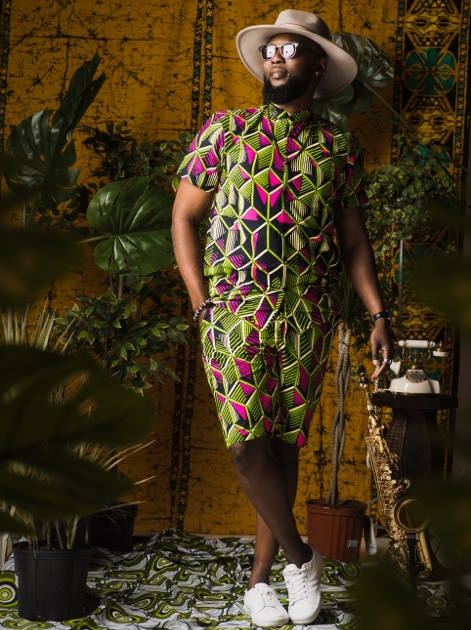 Baba Kuboye, also known as Baba, Big baba, Mr Robo Robo, Mr Down 4 Whateva is a rapper, spoken word artist, Afrobeat saxophonist, and singer from Lagos now residing in the Dallas, Texas area pursuing his dreams. He is driven to improve his skills in the music industry every day. "I am always working on creating new music. Currently I am working on my EP, which will be releasing in June this year. I have also been doing a lot of creative live performances with a band, dancers and a horn section. Original afrobeat style with a twist. It's definitely a vibe!"
By staying consistent, talented artist, Baba, keeps himself occupied in the industry. Being chill, competitive, and consistent, has helped him succeed in his endeavors. Despite the difficulties, Baba, is a go-getter, keeps pushing with his music and has a lot coming up. "In the next month or two, I will be releasing a body of work and I have been channeling all aspects of my creative ability into it. Exploring new ways to express myself has been an exciting journey for me. I cannot wait to share all I have been working on with the world, afrobeat lovers and of course my fans. Anyone that has been paying attention to my social media will surely notice and appreciate the growth. I am also working on merchandising the cool outfits myself and my dancer's wear. People always ask where we get our clothes and I tell them it is custom made. So now I will be selling African style clothes that everyone can enjoy wearing. Be sure to order and support us with both the music and the merchandise when it drops soon! I will also be adding the option to face paint at my shows."
His objective is to keep it honest and make a name for himself with his work. "I have made something out of nothing, and I am seeing the success and improvement from all the work I have put into it. Not many people believed in me or supported me - but I wholeheartedly believe in myself. Now, the growth in my music, my image, my branding and my artistry is very evident to anyone who has been tracking my career. It is also generating a lot of positive feedback. Adding the saxophone to my repertoire was a HUGE deal. It took a lot of practice and learning to incorporate it into my performances and now it is paying off. All of this motivates me to want to do more – and see more success. Growth is about pushing boundaries, advancing, testing myself and reaching further. It's not always easy and comfortable but it is necessary to avoid being stagnant. Baba, mentions that his consistency and collaboration with others has helped him achieve great things.
Where are you from?
I was born in Lagos, Nigeria.
Give Three qualities that describe you:
Wise, patient, humble.
How have you overcome struggles to be where you are at now?
Simple, by being Down 4 Whateva - which is also the name of my label and website www.down4whateva.com. It is the motto I live by! To always be down to stay positive. I do this by taking the time to remember my past WINS or accomplishments that have brought me to where I am now. The journey has had a combination of successes and setbacks. It's very easy to dwell on disappointments - but I don't find it useful unless I learn something specific from it. There are conditions or situations in your life today that you were working on in the past. Now that you have achieved it, its on to the next one. However, when things don't work out, I have found it very helpful to remember how I was in a similar place in the past with a situation that didn't exist which I have now created. This reminds me of my ability and gives me confidence to achieve what I want to if I put my mind to it.
Also, blind passion is what always keeps me going through good and bad times. The burning desire to get what I want, together with the excitement of where I see myself and my music beyond the current situation helps. The fun thing about creating is the manifesting - and I love to manifest. Who doesn't?
What piece of advice do you want others to take back from the work you display?
Your music career, like any career, is a marathon and not a sprint. If you are a doctor, you didn't start seeing patients on your first day. You probably spent a lot of time and money investing in the knowledge and experience of being a doctor first. When you started working as a doctor, you certainly did not recoup all your investment in the first month, week or year.
Another example, if you are a cashier, someone probably put you through some training before they let you handle the money and the till. Whatever you decide that you want to do, it will take time, preparation and endurance. Plan out your journey and check in every now and again to make sure you are sticking to the path. The money and fruits will come eventually - but you will have to spend initially.
Who were the most influential people in your life?
That's a great question because I asked myself that too - and answered it with a song on my upcoming EP. I am even planning to shoot a video back home in Nigeria that shows where I am from, how I grew up and who were the most influential people in my life.
Definitely my mother, my father and my two sisters have been the most influential people in my life growing up. Sadly my mum passed away when I was a teenager and that rocked my world. I did a song with my sisters called MAMA as a tribute to her many years ago - and I was able to feature her voice posthumously on a song I did in 2018 called One Day with another family member Femi Kuti.
Although artist Baba is totally focused on mastering the art of his job, his hardships have inspired him to strive for even greater achievement and his love for his family motivates him daily and gave him humble beginnings. "As with any small business, there is usually a lot to do and many balls to juggle at the same time. To truly be consistent and have good quality, I have learnt that I cannot do it all on my own - and I have had to outsource or get help. However, when you expand and take on working with people, it adds more to what you have to do as well. Finding the right talent to do the work is one thing - whilst coordinating and ensuring good communication between all the different teams is another. To make for a well-oiled machine, there has been a need to constantly refine the systems and processes required to do the work."
As a result of the outbreak of COVID-19, some artists had considerable difficulties in 2021; varied laws established at the local and federal levels prevented many events with large crowds, including concerts and festivals, from taking place. As a result, the number of chances for artists to demonstrate their abilities was drastically curtailed as a result of this decision. The emphasis of Baba's concentration is now on continuing to pursue his art and business profession in order to build his already strong foundation even further than it is already. Baba has his sights set on the prize and realizes that in order to be successful, one must not only invest in oneself, but also in those who will invest in you in exchange for their efforts on his behalf. In the audience, he is motivated at the thought of making a difference not just in his endeavors, but also in the rest of the community.
Multimedia brand, #Focuseddd, continues to promote the life of individuals like Baba the artist, who have an inspirational reason for doing what they do.
Tags of people mentioned: