August 2022 -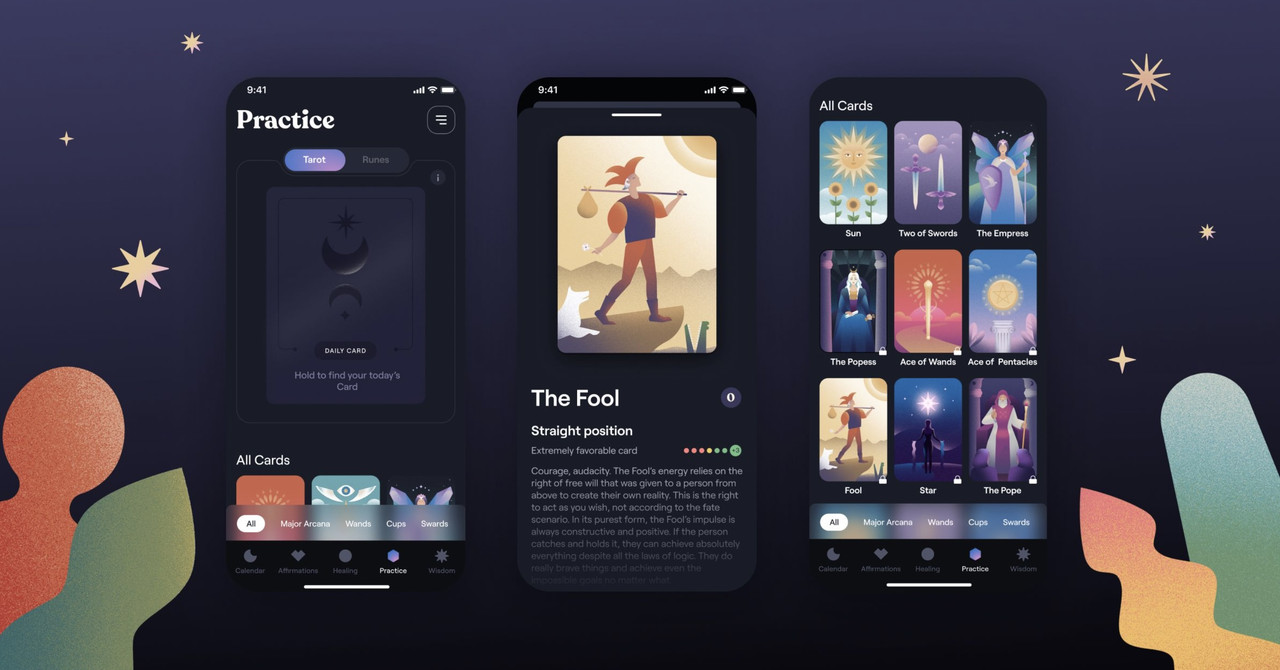 Meanings and card design are based on the French school of Dr. Papus.
Moonly team, a mindfulness app with the 3M+ users, which combines spiritual practices and a detailed Moon calendar, has launched a major update — now, a new section with Tarot cards is available for all users.
App's Tarot deck contains 79 unique cards, and illustrations and texts for them were created by our talented team after months of training with Tarot masters. Each card comes with a detailed description and interpretation, thanks to which you can immerse yourself in the world of Tarot and start learning about starting with the first card. The new section in the app is suitable for those who are already familiar with the Tarot system and beginners.
Open the card of the day, learn its meaning, and observe how its energy resonates with the events in your life. You can come up with a specific question and open the card as a clue. The descriptions will help you understand the cards, and it's up to you to discover how they relate to your own feelings.
With the help of the Papus Tarot, you can get tips for major and daily issues. A clearly formulated question is the main rule when working with the Tarot. Remember that the meaning of the same card can vary greatly depending on the context. Say a question to yourself or out loud, referring to the wisdom of the Tarot egregor, open the card and see which of its meanings closely matches the topic of your question.
"We are the explorers, and creating features/ products for Moonly is our way of learning about spiritual tools. An experienced practicing Tarot master trained our team to create a deck. Only by having deeply felt and started a personal practice of interaction with the egregor of Tarot did we begin to design cards. For a whole year, we have been studying and preparing this section with a love for details. It was crucial for us to preserve the classic symbolism by simplifying all the elements as much as possible while introducing a satisfying and easy-to-use deck at the same time."
— Olga Ramora, Moonly app founder.
About Tarot
The deck of this school contains of 79 cards, including the Blank card, which means the arrival of divine energy in the form of a new shining opportunity. The Major Arcana show which the higher powers influence events and control fate. The Minor ones show us what can be influenced by our will. On top of that, each card has a certain level of auspiciousness: from extremely negative to extremely favorable. Given all this and the nuances of interpretation, you can assess any happenings in your life.
Download Moonly app: iOS and Android
About Moonly App
Moonly is a service that combines psychology and Eastern astrology to help find harmony, listen to yourself and acknowledge your feelings. The app is available for both iOS and Android. Recently, the number of the Moonly users has reached 3 million people worldwide.
The project's mission is to provide simple tools for spiritual and soul growth.
Subscription
–

1 month: $3.99


–

1 year: $19.99 with a 3-day trial


–

Lifetime subscription: $39.99
The free version includes:
–

Tarot Cards




–

Moon calendar(restricted view of future dates)

–

Runes (partially)


–

Wisdom (partially)


–

Healing (partially): Meditations and sounds


–

Radio
The app is available in 7 languages:
English, Italian, Spanish, French, Portuguese, German and Russian.