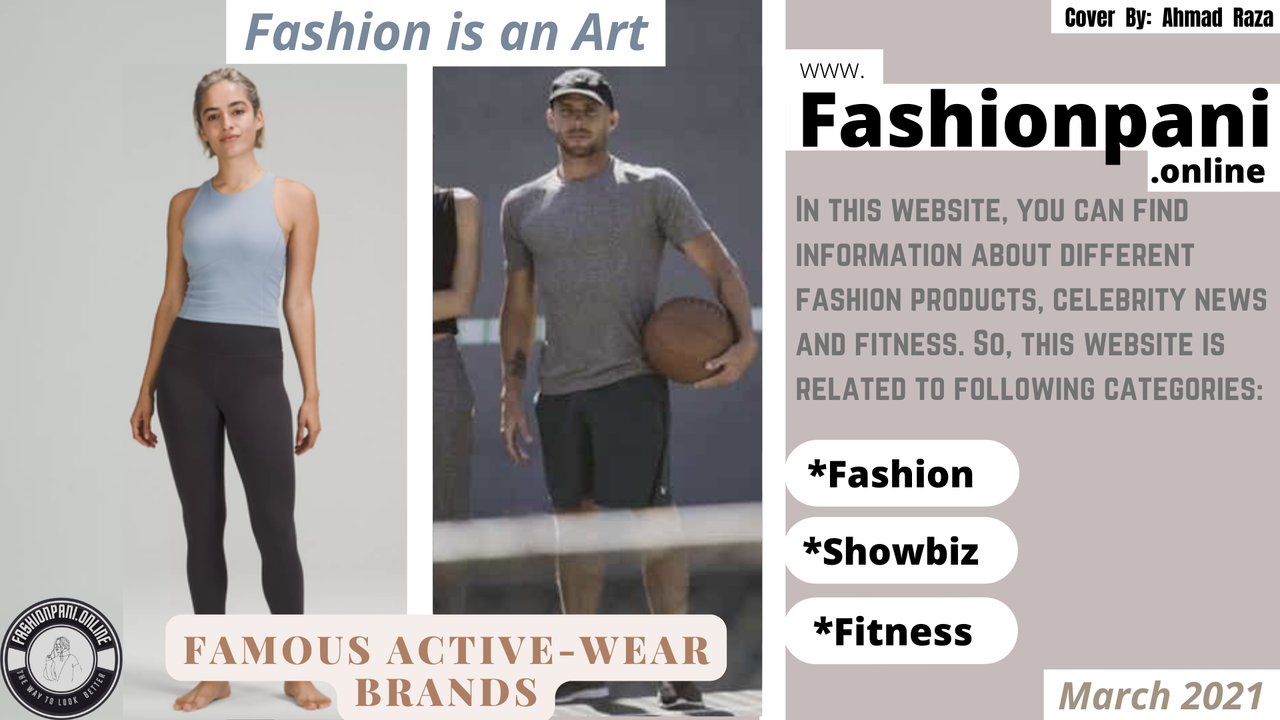 In this article, we will talk about some famous activewear brands
such as
Gymshark
,
Lululemon
,
Vuori
,
Aloyoga
,
Buff Bunny,
and
many
more
such famous brands. These are very high-quality brands and they are also very expensive. These brands are earning a lot of commission because of
thei
r buyers. Many gym enthusiasts buy these brands'
products
, as they contain a lot of sports items such as ho
o
dies, trousers
, crop tops, sports bras, etc
.
Many athletes who go to the gym buy good quality brand clothing for their workouts, as these dresses provide a lot of help in exercising, as they are very flexible and sweaty. Many people buy different brands of clothing. So let's talk about 5 famous activewear brands which are quite famous brands and these brands are earning a lot of revenue, so let's discuss them one by one.
Vuori
This is a great and famous activewear brand. This brand manufactures outfits for both men and women. This brand makes and sells shirts, pants, tops, hats, and clothes for the player and earns a lot of money. This is a premiere performance brand. Vuori brand, which is far ahead in terms of investment, produces very interesting designs, and its designs are also displayed in fashion week shows.
Gymshark
This is a brand of fitness outfits, which is a very famous brand. Its office is in Solihull, England. This brand was established in 2012. It manufactures Gymshark fitness outfits, the outfits of this brand are very flexible and very well made. This brand produces new designs every year. Initially, the company made clothes using sewing machines and screen printers, which it bought with a saving of 1000 pounds. In Just the first year, Gymshark earned 500 pounds on a daily basis.
In 2013, the company showcased its outfits at the body power fitness show at the NEC in Birmingham, where it sold all of its outfits on the first day. After this show, the tracksuit of Gymshark became very popular, which made a huge profit of 3000 pounds in 30 minutes and thus this company sold very good clothes and made huge profits. Now the company is at the forefront in terms of compensation and now the brand is making millions of dollars.
Lululemon
So let's talk about another great and quite famous brand Lululemon. It is a well-known brand company, which manufactures very good quality garments for athletes. This brand was founded in 1998, and owned by Chip Wilson. its headquartered lies in British, the company manufactures a variety of yoga outfits such as yoga pants which are quite flexible and also helps in exercising and is also considered good in sweating condition. Lululemon manufactures dresses for athletes, such as Tops, Yoga Pants, Shirts, Sweeter, Jackets, and Undergarments.
And also makes water bottles, yoga meals, dry shampoos, and many other products for athletes. The brand also manufactures women's clothing along with men's. Lululemon is a great brand and it competes against other brands like Nike, Armor. The brand makes garments ranging from yoga to weight lifting.
Alo Yoga:
It is also a high-quality brand, which is quite popular. Alo Yoga has been one of the fastest-growing activewear brands for many years. The brand produces beautiful outfits and many celebrities like Salena Gomez, Kendall Jenner, Gigi Hadid like it. This brand makes costumes for games like yoga, weight lifting. Both Alo Yoga and Lululemon brands produce high-quality fabrics. Both brands have their advantages and disadvantages.
Buff Bunny:
Now let's talk about another famous brand Buff Bunny. This brand mostly manufactures women's clothing. This brand manufactures garments that beautify the body. Buff Bunny has about 8 lakhs fans on Instagram. This is an activewear brand that manufactures extra small (XS) to extra (XXXL) sizes such as sports leggings, joggers. The clothes of this brand are very soft and sweaty. On the contrary, its high performance is appreciated. This brand makes a lot of items like one-shoulder bras and velour bike shorts.