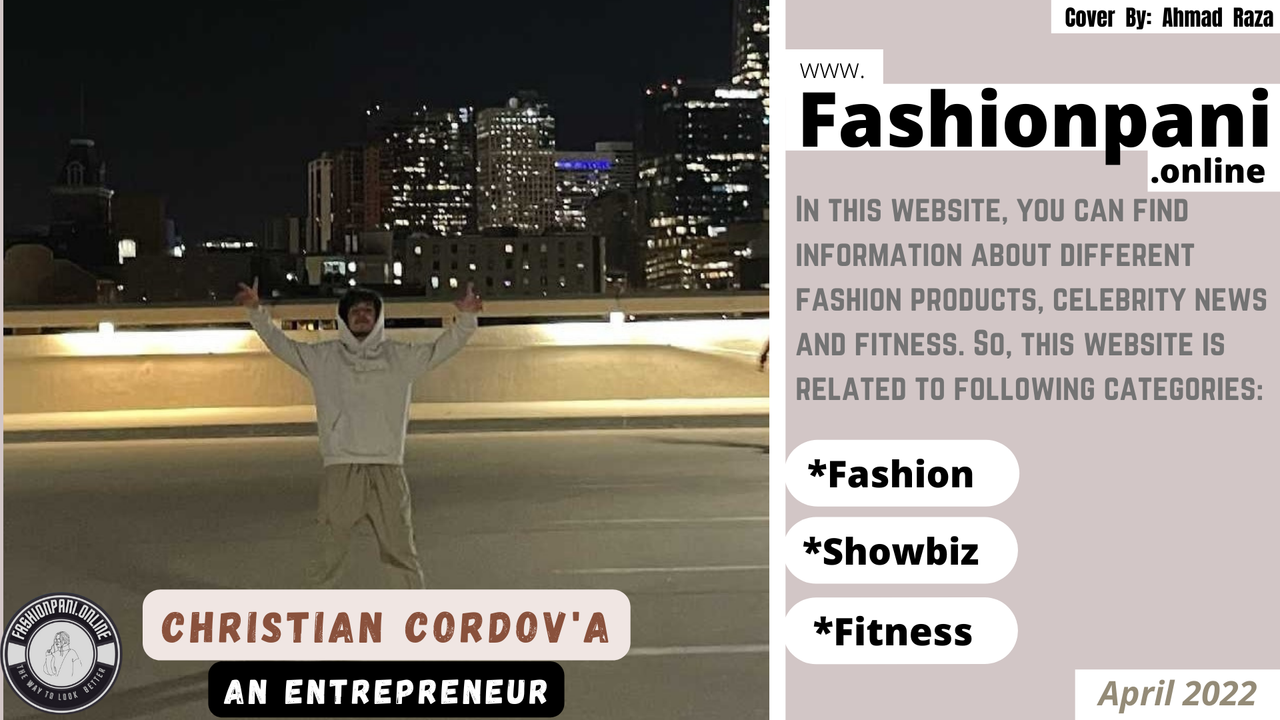 Christian Cordov'a or Cordov'a, is a rising star from the Albuquerque New Mexico music industry who has set his sights high and is now residing in the Denver, Colorado area making a difference. Cordov'a has one goal in mind: should become more serious and dedicated to his profession. "Creatively I'm working on mastering my craft and being original. I want to build something unique. One of the biggest things that inspires me currently is the people around me and working towards becoming the man I'm meant to be." Down to earth, fearless, and resilient with his work, Cordov'a is motivated in the way he goes about making music.
Rapper, country artist, and entrepreneur, Cordov'a went on to say that in order to stay connected with people in the city, he stays consistent on the scene . His enthusiasm only serves to motivate him to put in more constant efforts in the music industry, "Since I started making music and working on business, I've spent near thousands on trying to grow my platform and trying to build an audience. Marketing is a huge part of growing anything you could have the greatest idea but if no one hears it its basically useless, actually getting people to hear you out and having a voice that's credible is huge."
Where are you from?
I'm from Albuquerque, New Mexico, and a small town in Wyoming by the name of Baggs, and Brighton, Colorado
How have you overcome struggles to be where you are at now?
Unity is a big part of going through hard times one of the biggest things that have allowed me to overcome the lowest points is having a solid circle and a vision is so important. 2020 was by far the hardest year of my life. A broken home, heartbreak, drug addiction, problems with the law. Some of these issues I'm still going thru if there's anything I've learned is that as long as you keep your dreams in mind it'll help you push through.
What piece of advice you want others to take back from the work you display?
When people look at me i want to convey a message of hope. Most my brand revolves around inspiring I wanna be m a symbol of growth and progress. One of the biggest pieces of advice I'd give people is to take advice from people you aspire to be like or look up to. What is real will prevail as long as you have a goal in mind it already happens the work is the next step
What do you have coming up right now that you want others to know about?
Currently, I'm working on getting into real estate, starting up a record label, and many other things big big things coming. New music soon
Who were the most influential people in your life?
The most influential people in my life would have to be my family especially my mother and my grandma as well as all my homies especially my bro Gabe and Renny love for all my people. Huge shout out to my mentor Rob Level.
As a result of the outbreak of COVID-19, some artists had considerable difficulties in 2021; varied laws established at the local and federal levels prevented a large number of events with large crowds, including as concerts and festivals, from taking place. As a result, the number of chances for artists to demonstrate their abilities was drastically curtailed as a result of this decision, The emphasis of Cordov'a's concentration is now on continuing to pursue his musical profession in order to build his already strong foundation even further than it is already. Cordov'a 's has his sights set on the prize and realizes that in order to be successful, one must not only invest in oneself, but also in those who will invest in you in exchange for their efforts on his behalf. In the audience, he is giddy with excitement at the thought of making a difference not just in his neighborhood, but also in the rest of the community.
#Focuseddd continues to promote the stories of individuals like Cordov'a the artist, who have a reason for doing what they do.
Tags of people mentioned:
This interview was documented by the #Focuseddd

.