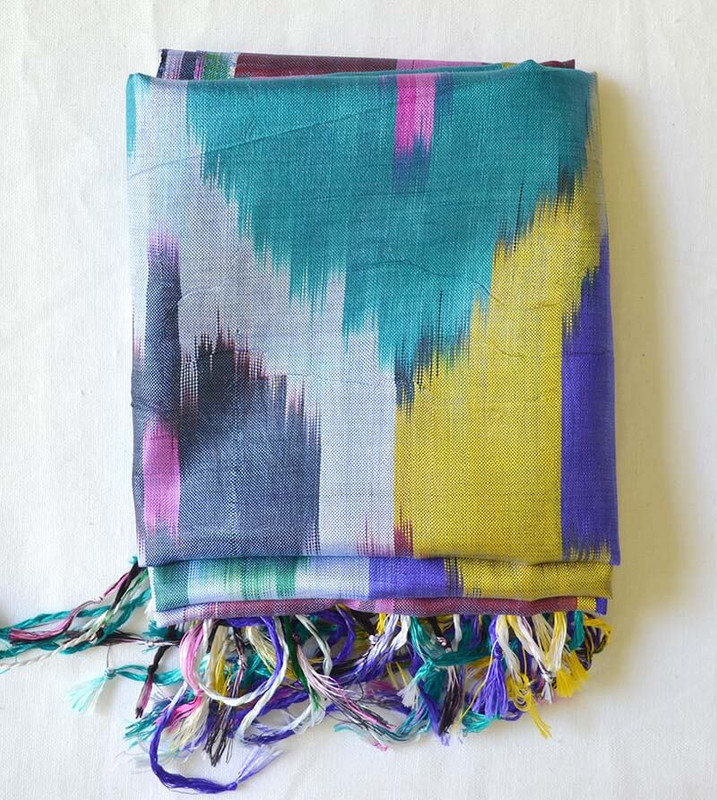 Now that Fall is just around the corner, it is time to take out sweaters, coats, cardigans, and scarves to keep yourself warm and look chic. As the temperature outside begins to drop, you would want to stay warm and cozy without sacrificing your touch of elegance. A scarf draped around the neck is the easiest yet the best way to look modest and glamorous this fall.
Additionally, silk clothing is exceedingly in request, and people from all around the world are looking for distinctive color variations. This incorporates silk ikat scarves as well. Modern ikat scarves have become a favorite accessory for women. Ikat scarves can be sewn from various fabrics, such as cotton, satin, gauze, and silk.
However, silk ikat scarves are the softest and most exquisite of all the ikat scarves. They stand out from the others due to the smoothness of the texture of the fabric, the pleasantness to the touch, and the shining gleam. The silk ikat scarf is a rich piece that will be a wonderful cloth accessory for all seasons, warm in the winter and cool in the summer. Silk ikat scarves are truly one-of-a-kind textile treasures!
Keeping this in mind, let's proceed to talk about the other reasons why you need a silk ikat scarf this fall.
1- Silk Scarves Keep You Warm
One of the more practical reasons why you need to wear a silk ikat scarf is to keep you warm. Think about it; the neck is often exposed to the fidged cold air regardless of whether or not you have a jacket on. When you wear a silk ikat scarf, you can protect the neck with ease and comfort. The silk not only keeps your body warm but also allows it to breathe so that you don't get too sweaty under there. You can also protect your nose and ears spots where a jacket collar does not reach. Therefore, silk ikat scarves actually offer so much more to those who wear them.
2- Silk Scarves are Versatile
Silk ikat scarfs are immensely practical and wonderfully versatile pieces of clothing that can be styled in endless ways. They are made from strong but super soft silk that can be worn in a variety of ways. Such as a chic bowed French style neck scarf; long and flowing to add the finishing touch to any outfit; casual with a t-shirt and jeans, or combined with a smart business suit. They can also be tied to your hair as a head wrap, bandana, evening stole, or sarong or worn as a belt. You can even tie them around the handbags as an additional accessory. Buy your favorite silk ikat scarf and be creative with it!
3- Silk is Light like a Feather
Without a shadow of a doubt, a silk ikat scarf is a delicately finished sheer texture that is light as a breeze. A silk ikat scarf is the most practical for seasonal weather since it can be easily folded to carry in a pocket or bag as it takes up little space. They are quite lightweight that you will even forget that you are wearing one. A silk ikat scarf should be on a packing list for any trip, be it for comfort or aesthetics. Wear it on forest walks, at the beach, or simply strolling city streets. So make your journey even more comfortable and glamorous with luxurious lightweight silk ikat scarves.
At UzbekAlive, we select authentic textiles and collaborate with Uzbek artisans while designing each product. Our silk ikat scarves are made of 100% natural silk. We sell only the artisanal handwoven silk ikat scarves. This means all our silk scarves are sustainable and timeless. You can choose both Solid Silk Scarves, multicolor silk Ikat Scarves, or Ikat Pattern silk scarves.
Place an order for our silk ikat scarves for weddings, bridal showers, prom, or other occasions. Customs orders are always welcomed. We ship worldwide, and all silk ikat scarves are shipped within 3 business days.
Moreover, we have exciting news for you. If you made a purchase of $99.99 or more, you will get free shipping on silk ikat scarves. We want you to be thrilled with your purchase and blown away by our customer service. So pick UzbekAlive silk ikat scarves to make a loud, playful winter or fall statement.