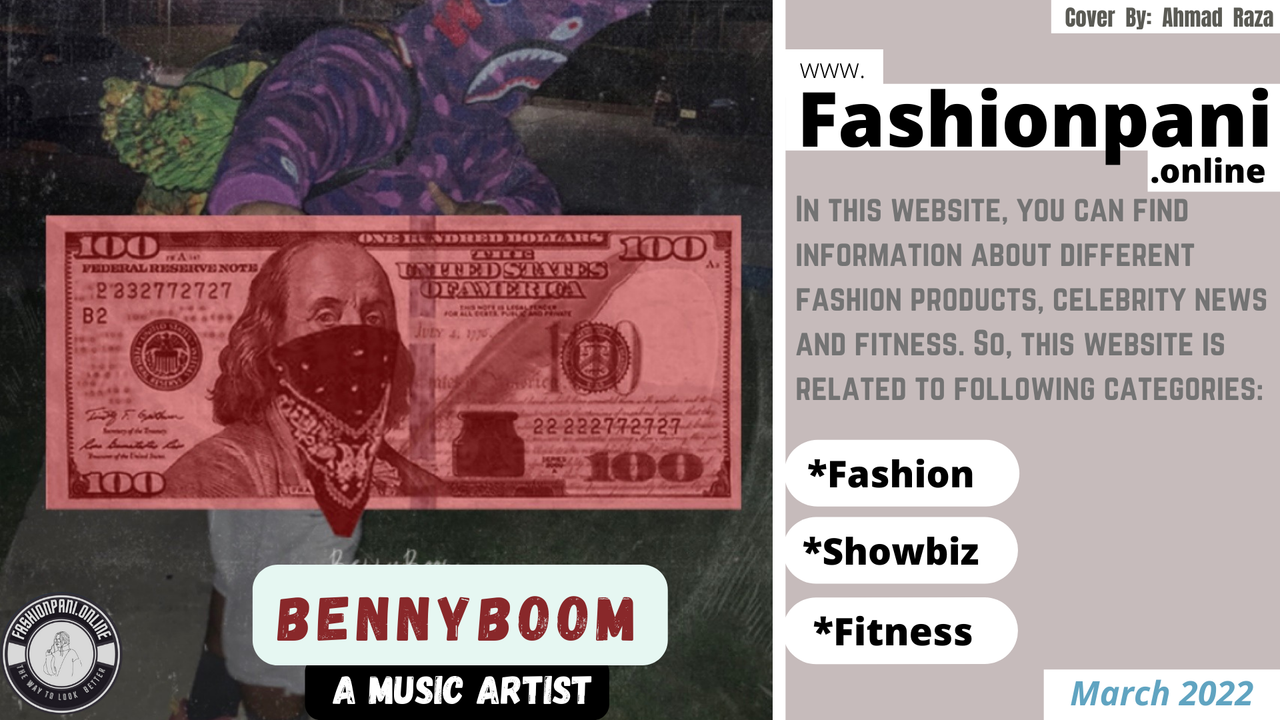 BennyBoom is making noise in the music industry. Originally from Houston, Texas, the musical artist has levels to his work. BennyBoom has set his sights on accomplishing his dreams. BennyBoom is on the right track to success. From his consistent work to his investments, he stays relevant always. "Im currently working on this new song with my close friend Hunch called "Fuck Em" ( Ft. Hunch) and get my crew, F Team, out their more ,and other then that im really just trying to get my name out there. I love to make music, I have my own crew callled ( F Team) also known as 'The Flyest Team'. I love to make many different songs." BennyBoom stays diverse with his sound.
A diverse artist, resilient with his work, loyal , assiduous , and a high flyer, BennyBoom is motivated in the way he goes about making music and comes from humble beginnings.
How have you overcome struggles to be where you are at now?
Managing free time really to be able to make music whenever I can. Last year had to quit football and miss school just to get in the studio and record songs. I had to miss days just to learn how to produce on my own.
What piece of advice you want others to take back from the work you display?
Shit it really just depends on what song you listen to because I have many different songs about many different things. But I would say personally is if you want to do something don't be afraid and step out and do it fuck what everybody else thinks as long as you happy doing it that's all that matters but just know ( It F Team Or No Team) You either Fly or you not.
What do you have coming up right now that you want others to know about?
My new song dropping soon "Fuck Em" (Ft. HunchDaJoint)
Who were the most influential people in your life?
My uncle Sean aka SeanDaJoint.
As a result of the outbreak of COVID-19, some artists had considerable difficulties in 2021; varied laws established at the local and federal levels prevented a large number of events with large crowds, including as concerts and festivals, from taking place. As a result, the number of chances for artists to demonstrate their abilities was drastically curtailed as a result of this decision, The emphasis of BennyBoom's concentration is now on continuing to pursue his musical profession in order to build his already strong foundation even further than it is already. He does not let the past struggles affect him and says he definitely learned. "I am just trying to make it big. I come from not having it all. Sometime not knowing what the next meal was going to be at one point. I am just trying to slowly glow up and get rich with my nigga hunch. So shit, I guess I really do it for both of us and my family type shit."
BennyBoom gives motivation to conclude the interview and aims to only be inspiring through his projects. He explains that certain people motivated him and still now to keep pursuing his dreams. "Had to really find a partner who was really down with this music shit. For real. That's where my nigga hunch come in. But other than that, shit, really had to learn have to record by myself, find people who could record a music video for me, getting kicked out of stores and all, stayed up hours just to teach my self how to edit these videos. No body taught me how to record or anything. I had to stay up long school nights just to teach myself. And now that I know how to do it, I really try to help other people when I can. I still have to manage waking up every day early in the morning just to go to football at 7:30 before school. Then football after school ends at 5:00 o'clock, I just to go to work at 6:00 till 11:00 every day of the week. Then still have to manage to record music and promote my self." BennyBoom has his sights set on the prize and realizes that in order to be successful, one must not only invest in oneself, but also in those who will invest in you in exchange for their efforts on his behalf. In the audience, he is motivated at the thought of making a difference not just in his neighborhood, but also in the rest of the community.
#Focuseddd continues to promote the stories of individuals like BennyBoom, the artist, and business man, who have a reason for doing what they do.
Tags of people mentioned:
Snapchat:
Instagram:
This interview was documented by #Focuseddd.