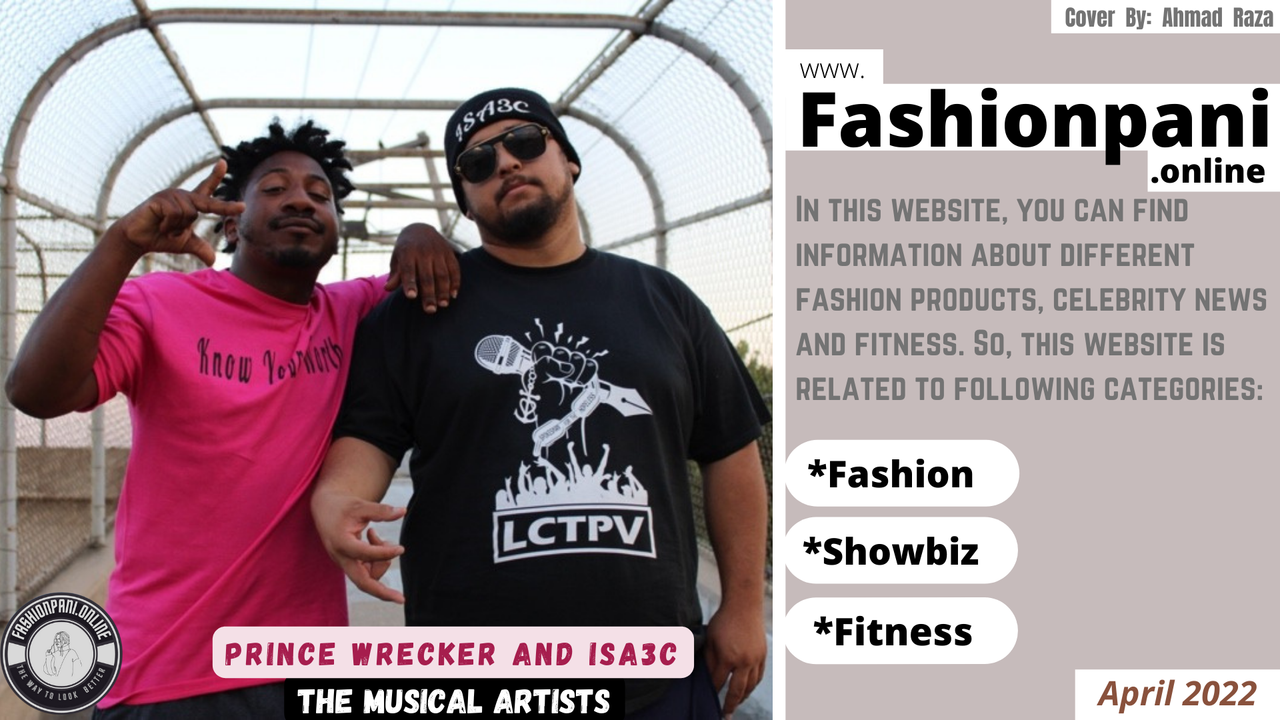 Antonio Fugett & Isaac Acosta or also known as their stage names, Prince Wrecker and ISA3C, are musical artists from the origins of LCTPV range from East, Arlington Texas to South Grand Prairie. Both individuals moved around city to city and state to state and are driven to improve their skills in the music industry every day. "At the start of the year we have been putting together a 12-track album. Entitled 'ALBOE' A little bit of everything. Really, we could say everything that is going on in the world, but speaking for both, we can agree it's been the younger generation and the personal issues in our life." By staying consistent, Prince Wrecker and ISA3C keep themselves occupied in the industry. Also being courageous, authentic, and ambitious, Prince Wrecker and ISA3C, are both go-getters, and only keep expanding.
Their objective is to keep it honest and make a name with their work. "As for certain, we know a lot of people who grow up in poverty either see the positive outcome of their situations or only see what's amongst them: For us, we continue to have faith in what we believe in knowing that the current situation we may have been in, was only temporary. Majority of our struggles force us to be alone which ultimately built tough character overtime, leads us to knowing who we truly are and being disciplined enough to deal with damn near anything thrown our way, As God will never put too much on our plate we can't handle." Prince Wrecker and ISA3C both agree and mention that rap music can be misinterpreted and taken as a joke. They claim that they are the peoples voice and want to make a major difference in the next generation. "We want the youth to grasp the concept of being themselves and not appealing to what the world portrays as 'Cool or the norm' and or chasing clout. We want others to take a listen to our music, feed into us for hope, encouragement and let the ones who feel like they're nobody, feel like somebody."
As a business owner, what are some obstacles you have had to overcome to get where you are at?
We wouldn't consider what we do as business because we have an extreme passion for our music but having to grow up young and take on "adult" responsibilities at age 14-15, Built strong character and a level head, giving us, both understanding on how to manage. There's plenty of times we've slept in motels, cars, helping our mom and dad with bills, being separated from siblings, dealing with breakups, losing family members. To really sum it up, it was a mixture of growing up fast and not wanting to live like the people we saw around us.
What do you have coming up right now that you want others to know about?
We tell our supporters that we are always working and creating So expect tons of content. For the 2022 year we have a 12-track album we will be dropping just in time for the summer, we've been establishing an apparel line that will be open to the public soon (Right now all orders are custom and made on hand). We've also had a YouTube channel @ LCTPV that is documenting our life so you can all see our journey.
Who were the most influential people in your life?
Prince Wrecker: For me the most influential people in my life and I'll start with Curren$y, Spitta & my mother. My Mama passed away when I was 11 but her joy and ability to love and smile through all adversity is the reason why i can see the positive outcome, She's the reason i know how to rejoice in moments of despair. Love yah Kimberly Fugett. Currren$y Spitta, is the vision I've always had of myself when I first started rapping. He displays true leadership & originality. I love lowriding and a lot of the times, I enjoy a good cannabis joint too! I love music and being who I really am, and that's Curren$y to the core. Respect to Uncle Spitta.
ISA3C: I have to give that award to my mother. My parents are divorced, and I grew up with a single mother and in those times with my mother growing up I have dealt a lot that changed me to the man and artist I am today. There have been times I've wanted to give up in life, but I could never call it quits because my mother has always found a way. She was the one that told me if there's a will theirs a way and never depend on anybody to do anything for you. In addition, I could never call it quits because I have a little sister looking up to me so I must set an example for her. In all, seeing my mother never give up with all she has been through is the reason why she is my inspiration and knowing I have a sister that looks up to me gives me even more reason to never give up and keep going.
As a result of the outbreak of COVID-19, some artists had considerable difficulties in 2021; varied laws established at the local and federal levels prevented many events with large crowds, including concerts and festivals, from taking place. As a result, the number of chances for artists to demonstrate their abilities was drastically curtailed as a result of this decision. The emphasis of Prince Wrecker and ISA3C's concentration is now on continuing to pursue their art and business profession in order to build his already strong foundation even further than it is already. Prince Wrecker and ISA3C have their sights set on the prize and realizes that in order to be successful, one must not only invest in oneself, but also in those who will invest in you in exchange for their efforts on his behalf. In the audience, they are motivated at the thought of making a difference not just in his endeavors, but also in the rest of the community.
Multimedia brand, #Focuseddd, continues to promote the life of individuals like Prince Wrecker and ISA3C who have an inspirational reason for doing what they do.
Tags of people mentioned: